Unified Network and Server Availability Monitoring
Quickly find and fix network and server problems.
Automatically discover, map and visualize infrastructure dependencies.
Proactively manage infrastructure health and capacity management.
Easily track every change made to your network.
Optimize network traffic and bandwidth utilization.
Use actionable, unified and customizable dashboards.
Easy to deploy and use.
Key Capabilities
Discovery
Automatically discover all resources and map their connectivity. Build an accurate picture of your network devices and systems and their interconnections, using layer 2 and 3 network technologies, including ARP, SNMP, ICMP, SSH, LLDP, WMI, Telnet and more. Easily schedule network discoveries or run them on-demand.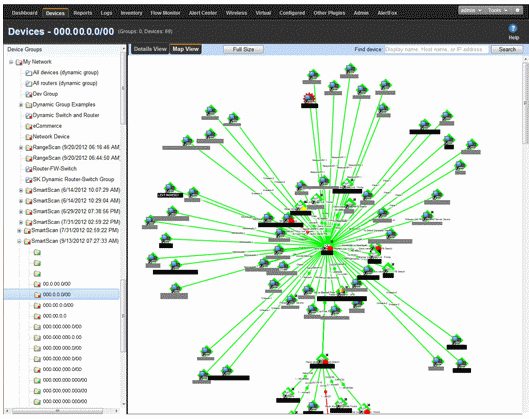 Mapping
Automatically generate a complete layer 2/3 topology map of your network with visibility into both physical and IP connectivity, including VMware and VLAN-specific information. Easily customize your maps and drill down into performance statistics for your wired and wireless networks.
Inventory
Receive comprehensive asset and inventory reporting on device and asset information (hardware, software, firmware, model, power supplies, serial number), systems inventory information (OS version, patches and warranty information), and configuration information (interfaces, bridge ports, switch ports and VLANs) – all agentless.
Monitoring
Using a combination of both active, passive and performance monitoring technologies monitor the health, availability and status of your network, systems and application infrastructures. Stay ahead of potential performance issues with early warning notifications.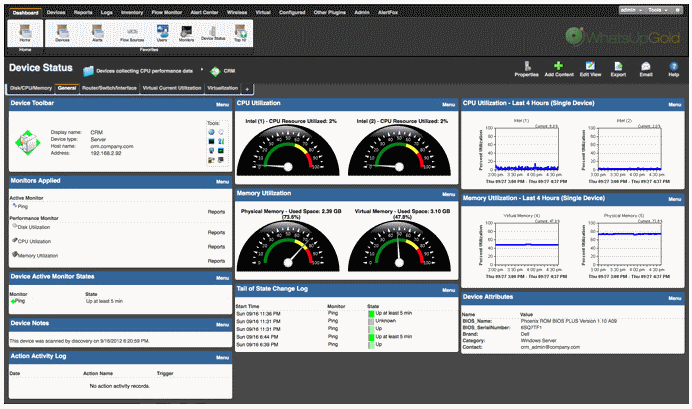 Alerts, Reporting and Management
WhatsUp Gold's Alert Center gives you alerts from across your entire infrastructure. The multilevel escalations make it easy to prioritize responses to any problem – from performance issues to traffic bottlenecks to configuration errors. Over 200 out-of-thebox reports provide complete visibility into the health and performance of your infrastructure. Reports can be easily customized to meet a specific audience or need.
The Whatsup Gold Suite Of Integrated Plug-Ins
Integrated IT Management from a Unified View